6 Flowers to Incorporate the Color of the Year in Your Wedding
It's been announced! The 2020 color of the year is Classic Blue. You may be wondering, "how am I supposed to incorporate this color into my wedding?" Florals are the way to go and we've got you covered! Check out a few ways to make Classic Blue shine bright in your upcoming wedding: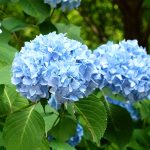 Hydrangea: These big, sky blue blooms will definitely brighten up your wedding. They have large heads composed of many smaller flowers. Elegant yet hearty, hydrangeas provide a beautiful base for a cascading bouquet. We suggest adding a white flower  such as stephanotis to really make that blue dazzle.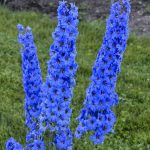 Blue Delphiniums: Delphiniums are a hardy perennial with soaring floral spires. While they may not be the focal point of your bouquet, they make for great filler flowers, which fill in gaps and dress up the appearance. They impart a delightful sprouting effect    to the design. Or, for a more simple look, create a hand-tied bouquet with blue delphiniums. Just tie them together with wire or floral tape and finish with ribbon.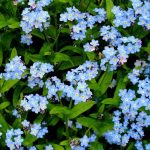 Forget-Me-Nots: These tiny, sky-blue flowers grow above bright green foliage in the summer. Forget-Me-Nots have either white, pink or yellow centers. These lovely flowers would make a perfect flower crown, sure to complete your garden wedding aesthetic. Or add Forget-Me-Nots as a decorative flower on the back of chairs, use them as a centerpiece or add them into your bouquets as a filler flower!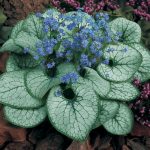 Brunnera: This shady garden plant blossoms with pale blue flowers in the spring, similar to Forget-Me-Nots. Transform this flower into the perfect centerpiece for your special day. Pair with airy and less full flowers such as lisianthus, hollyhock, rambling            roses, digitalis and smilax for a beautiful garden-style arrangement.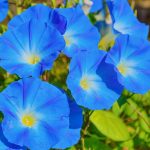 Morning Glory: This beloved vine grows easily and produces round sky blue flowers. Make morning glories your bouquet focal point to immediately capture the essence of classic blue and wow your guests. This arrangement particularly looks beautiful with green fillers such as myrtle, eucalyptus 'baby blue', or honey bracelet.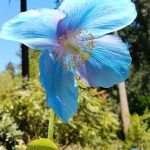 Himalayan Blue Poppy: This rich true blue flower is a garden treasure. Himalayan poppies are heavily sought after and can be very temperamental so keep that in mind when heading to your local florist. The enchanting color makes for an excellent bouquet that captures the eye. Pair this gorgeous flower with white or pale pink flowers as a bouquet or simply as a gorgeous centerpiece. 
There you have it. These six beautiful flowers will make classic blue pop in your wedding. If you plan on having a Central Coast wedding, check out Cambria Nursery and Florist for your classic blue bouquet. Looking for the perfect garden venue? Check out The Oregon Garden, an 80-acre botanical garden that is sure to feature classic blue flowers, perfect for photos.