How-To Make Seed Balls
Given this hectic time, we know it can be difficult to feel cooped up inside all day. We are so proud of our followers and customers for taking this pandemic seriously and choosing to self-isolate, but let's be real. With news and social media outlets being bombarded with new information or opinions about COVID-19, it is easy to feel anxious and trapped. Here at Cambria Nursery & Florist, we wanted to give you fun, new activities that you can do at home to not only kill time, but to reconnect with the earth and even grow a plant or two! 
We created our new webinar series to bring gardening to you and your family! Every week we will be posting instructional videos for gardening related projects that you can do inside your home, or in your backyard while social distancing. 
Our first webinar, Seed Balls for Kids, is live on our Facebook page, if you would prefer to watch a video. Not into watching videos? No problem! We will be posting written guides for all of our videos as well. Keep reading to learn how to do this fun and educational family activity. 
WHAT YOU'LL NEED 
Powdered Clay
Soil or Compost
Seeds
Water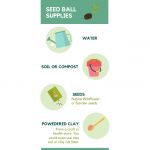 We are choosing activities that take minimal supplies so that you don't need to leave your home in order to complete them. But if you are missing some supplies, contact the nursery at (805) 927-4747 to see what we have in store for you. We are offering FREE delivery to all residents in the 93428 zip code, as well as curbside pickup for those who live outside of Cambria. You can even get 20% off your entire purchase for a limited time!
WHAT IS A SEED BALL? 
A seed ball is a marble to golf-ball-sized ball made of clay, earth and seeds. These balls have been used since ancient times in order to revegetate land that has been either abused by people, or hurt by natural disasters. 
Before the development of seed balls, reseeding natural areas was difficult. The traditional method of scattering seeds along the top of the soil comes with a lot of major drawbacks – it may be baked dry by the sun, blown away by the wind, washed away by heavy rains, or nibbled away by birds or other wildlife. Very little is left to germinate and grow. 
Clay seed balls fix all of these problems. The key player, clay, protects the seed from the heat of the sun, helps the ball retain moisture, and makes the ball heavy enough not to be blown away by the wind. Little critters often don't enjoy eating clay either! 
RECIPE
Combine a 1 to 1 ratio of clay and soil. Don't worry about getting super specific with cups, or tablespoons. This isn't baking! You can use a small pot as your measuring cup, or even your hand. Just try to make sure you are getting about the same amount of clay and soil. 

Generously sprinkle a packet of seeds and mix it into your clay and soil mixture. Don't be afraid to do a mixture of flowers! You could even grow your own food such as lettuce or vegetables. Not sure what would grow well at your home? Our experts can help you pick out the perfect seed packet!

Slowly mix water into your dry mixture. You will combine water with your dry mixture until you reach the desired playdough-like consistency. If you feel you've added too much water, just go ahead and add another 1 to 1 ratio of clay and soil. Repeat until you get the desired texture. 

Grab smaller pieces of your mixture and roll into small circles about the size of a golf ball. If it's a little bigger, or smaller that's fine too! 

Once you've created all of your seed balls you will want to leave them out to dry for 24-48 hours. Make sure they aren't in direct sunlight though! You don't want them to get too crackly and dry. 
Once you've let your seed balls dry out, they are ready to be put into nature! Don't worry about being gentle with these bad boys, you can toss them wherever you would like and they will flourish. However, it is best to place them when you are expecting rain, to help nourish the germinating seeds! 
Happy Gardening, 
The Cambria Nursery Team