Join the Birdhouse Workshop at Cambria Nursery and Florist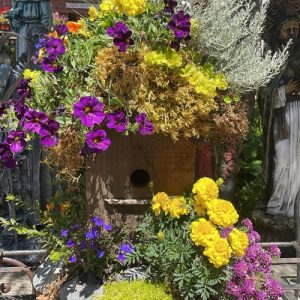 The Birdhouse Workshop on Saturday, August 19 at Cambria Nursery and Florist is not just any ordinary crafting session – it's an extraordinary journey into the world of nature-inspired craftsmanship. Imagine spending a delightful afternoon surrounded by lush greenery and the soothing melodies of birdsong, as you dive into the art of building exquisite birdhouses. ✨
Led by Shana, the Nursery's skilled garden artisan, the workshop offers a perfect blend of education and fun. Participants will learn about the various bird species that may call their newly crafted houses home, as well as the fundamental woodworking skills required to construct these miniature havens. From selecting the right materials to mastering the fine details of design, each step is a testament to the beauty of hands-on craftsmanship.
Whether you're a seasoned DIY enthusiast or a novice looking to explore your creative side, the Birdhouse Workshop caters to all skill levels. The warm and welcoming atmosphere encourages participants to unleash their imagination and embrace the therapeutic process of creating something unique and meaningful. Sign up for the Birdhouse Workshop at Cambria Nursery and Florist today and let your creativity take flight! CLICK HERE to sign up.
To ensure a personalized experience, limited spots are available.