Christmas at Cambria Nursery and Florist
Christmas is our favorite time of the year! Join us to get in the holiday spirit, any time of year. Cambria Nursery & Florist is proud to provide one of the largest year-round Christmas Stores on the Central Coast. We carry the most popular brands of Christmas decor, including Department 56, Christopher Radko, Kurt Adler & more!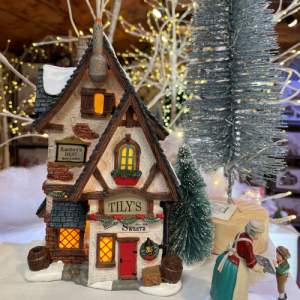 Museum & Christmas Store: The Enchanted Christmas
We host a year-round Christmas Store, featuring handmade glass-blown ornaments, handcrafted Nutcrackers and Smokers imported from Germany, and one-of-a-kind holiday collectibles. We also have a large collection of Christmas collectibles and rare finds, some for sale and some for show, including antique kugel ornaments.
Did you know that the Nursery also participates in the Cambria Christmas Market? This year, the Nursery team is working hard to create a magnificent new larger than ever Christmas shopping experience that you won't want to miss! Stay tuned for the grand reveal… 
Visit our eBay store for vintage Christmas items and collectibles. We currently have an impressive collection of antique and retired Christmas collectibles on our storefront! 
Charles Dickens Great-Great-Grandson to Visit the Lodge
Cambria Pines Lodge is thrilled to announce an extraordinary holiday treat for lovers of classic literature and captivating performances. Gerald Charles Dickens, the great-great-grandson of the legendary Charles Dickens, will bring the timeless tale of "A Christmas Carol" to life at the Lodge. With matinee and dinner show performances on November 11-12, Dickens' performance is sure to get you in the holiday spirit!
In what promises to be a spellbinding, one-man show, Gerald Charles Dickens will transport audiences into the enchanting world of Ebenezer Scrooge and his magical journey of redemption. Through his exceptional storytelling skills and the uncanny resemblance to his esteemed ancestor, Dickens will capture the essence of the beloved characters, evoking both laughter and tears as he recreates the heartwarming tale.
Following the performance, attendees will have a unique opportunity to meet Gerald Charles Dickens in person at the signing event. This exclusive meet-and-greet will allow fans to engage with the talented performer, acquire autographed memorabilia, and deepen their connection to the Dickens literary legacy. 
Meet Designer Christopher Radko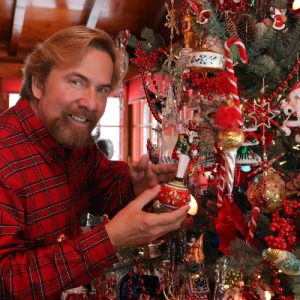 Guests will have a special opportunity to meet Christopher Radko, the designer of exquisite hand-crafted HeARTfully Yours™ ornaments, at the Nursery on December 15-17. After a 15-year hiatus, the world-renowned artist is making his grand return at the Cambria Christmas Market, making it his only current scheduled appearance on the West Coast. Radko's glass-blown ornaments have adorned in homes for decades and each piece is hand-crafted in limited-edition quantities by nine European families, personally selected by Radko.
If you aren't able to attend during Radko's visit, his line HeARTfully Yours™ is available year-round in the Nursery's Yellow Gift Shop. More details are to be announced on the Nursery's Facebook and Instagram pages.
November 24 – December 23, 2023
Don't forget to add the annual Cambria Christmas Market to your calendar! This event is based on an authentic German Christmas Market, featuring artisan vendor booths, 2+ million Christmas lights, food and drink inspired by Germany, live music, visits from Santa and much more. The event was even featured on ABC's The Great Christmas Light Fight!
Christmas Market is a street market centered around celebrating the holiday season. The history of Christmas Markets goes back to the Late Middle Ages! Markets originated in Europe and are now held in several other countries. In many towns in Germany and Austria, the holiday season is opened with the traditional Christmas Market or "Weihnachtsmarkt." Generally held near the town square, the market sells food, drink, and seasonal items from open-air stalls, accompanied by traditional singing and dancing.
We hope you're able to experience this one-of-a-kind Christmas event on the Central Coast!